Ireland Reaching Out is a Non-profit organisation and is funded primarily by the Department of Foreign Affairs and Trade and The Heritage Council. As well as providing financial support they also provide strategic and operational support to the programme.
Department of Foreign Affairs and Trade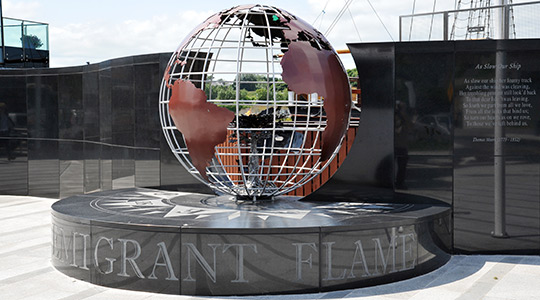 The Department of Foreign Affairs and Trade has supported Ireland REaching Out since it launched as a pilot programme in 2009.   We are a part of its Emigrant Support Programme and a key driver in Diaspora engagement for the Government.  In March 2015 it launched its first National Policy on Diaspora and in it stated its commitment to supporting "in an inclusive way with those, of all ages, around the world who are Irish, of Irish descent or have a tangible connection to Ireland, and wish to maintain a connection with Ireland and with each other."  The DFAT provide Ireland Reaching Out with international support through its Consular and Diplomatic network worldwide, as well as facilitating relationships with other key departments within Government such as the Department of Arts, Heritage and the Gaeltacht.
Read more about the national diaspora policy Global Irish - Ireland's Diaspora Policy 2015
---
The Heritage Council
The Heritage Council supports the role of Ireland Reaching Out in activating local parishes in reaching out to their Diaspora. Ireland Reaching Out groups are passionate about their heritage, especially at a local level, and many carry out research and hold events to engage the wider community in their local history, all of which is supported by the Heritage Council.
---
Google
Google supports Ireland Reaching Out in many ways.  It gives a substantial amount of free internet advertising via a monthly Adwords contribution.  Google has also collaborated directly on the recent website redesign - giving free one-on-one consultations with regard to implementing a new mapping function within our site.  This is a very exciting development, both for Google and Ireland XO. The interactive mapping feature is due to be launched later this year and promises to be the first project of its kind in the world - combining local knowledge, digital archiving and satellite imagery to bring the history of a place to life on our screens.
---
Private Donations
Many people choose to donate personally to Ireland Reaching Out as thanks for the help they receive in tracing their ancestors back to their original home in Ireland.  This service is offered freely to everyone who needs assistance but it is of great benefit to the programme when people show their appreciation this way.  Donate to Ireland Reaching Out.
---
Other Sponsors
Other sponsors include organisations and companies who, at different levels and in different ways, support Ireland Reaching Out at home and around the world.