Learning more about what our ancestors did can tell us a lot about their local area​..
While it is a generalisation, most of our ancestors worked on the land and their occupations as 'farmer' or 'labourer' reflected the agricultural character of the community. The rural community was one where people worked in their own parishes and rarely strayed beyond. The society in which they lived was largely self-supporting and self-sufficient and homes were made from local materials and built by local craftsmen. There are a number of sources that shed light on our ancestors occupations including commercial directories, parish records and school roll books. These sources also allow us to learn more about the daily lives of our ancestors by showing the types of trades and skills undertaken and the type of farming and other work carried out. While the majority of work was agricultural  some was very skilled and points to the type of landscape our ancestors lived in. 
---
Outside of farming, an occupation like 'Coachman' indicates that a Big House existed in the area providing work for local people. In Killererin, Co. Galway for example, Toghermore House employed not only a Coachman but a Housekeeper, Domestic, Gardener, Cook and Gamekeeper. Many of these workers were not from Killererin originally, but came to work in the parish because they had a skill that enabled them to travel and take up employment. Probably the best source is the 1901 and 1911 Census and they record a vast number of different occupations. As you can browse by place, you can see in a very comprehensive way what type of skilled and unskilled work took place in a given area.  In Ahoghill Village, Co. Antrim in 1901 for example, the village was served by at least one national school teacher, linen weaver, dressmaker, painter, timekeeper in a factory, a domestic servant and publican. A comparison with the 1911 Census will show how the village had changed in the intervening 10 years - did the village occupations change to facilitate tourism through the growth of lodging houses or did the number of teachers increase to provide for the growing number of school-going children?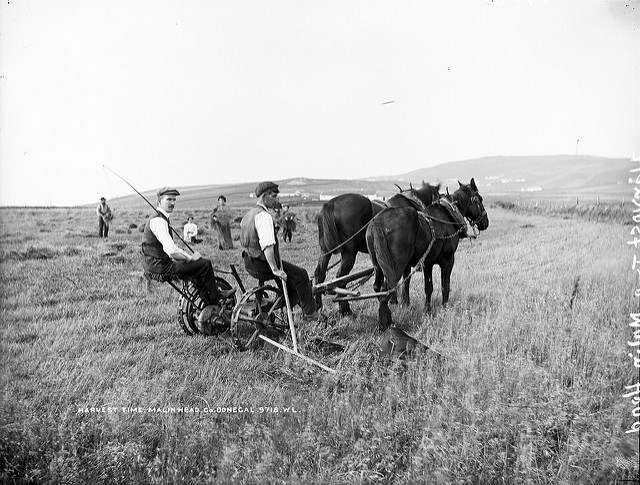 Farming at Malin Head in Donegal © NLI
---
Perhaps your ancestor was a 'Flax Scutcher', that is, someone who was involved in the processing of flax for spinning. In 1901 not many of this occupation were recorded outside Ulster where the linen industry was strongest. Below are a number of the other more obscure occupations listed in 1901 and unlike farming they were not dependent on the seasons or weather.
Bellows Maker  - making and repairing bellows mostly for use by a blacksmith
Higgler and Hawker - both a type of peddler
Whipper-In  - the person who managed the hounds at a hunt
Job Master - supplier of hired carriages and horses
Ostler - person who looks after horses
Pinner - someone who makes pins
Lum Swooper - a chimney sweep
Pot Man/Boy - someone in charge of washing dirty pots 
Platelayer - involved in laying down of railway track
Milesman- a railway employee responsible for maintenance of a defined length of railway track
Victualler - someone who provides food/drink
Elephant enclosure Dublin Zoo c. 1930-50 © NLI
Not many of us can say an ancestor worked in Dublin Zoo. In 1901 the Census lists eight men who worked as zookeepers or assistants in Dublin.  
---
Did we forget to mention the occupation of your ancestor, join the convesation over on our Message Board.
---
Or Add your Ancestor below
---
Read More