There's a relaxation that comes with reading and in the past year, in particular, the appeal of Irish books has grown phenomenally worldwide. 
So, among the most recent publications to feature in this Winter edition, you'll find award-winners, old-favourites back in print, and more. Enjoy!
If you want to recommend a title for our next edition, or add a local-interest book to the Local Guide, scroll to the bottom to find out how.
---
1. Through Her Eyes, Clodagh Finn (2019)
This remarkable book provides an account of the history of Ireland like we've never seen before. Told through the prism of the lives of twenty-one extraordinary women, it offers an alternative vision of Irish history, one that puts the spotlight on women whose contributions have been forgotten or overlooked.
From the oldest woman in Ireland, whose bones were found beneath the Poulnabrone dolmen, to the modern-day founder of a 3D printing company, this book introduces us to amazing women whose stories were shaped by the centuries in which they lived.
More information HERE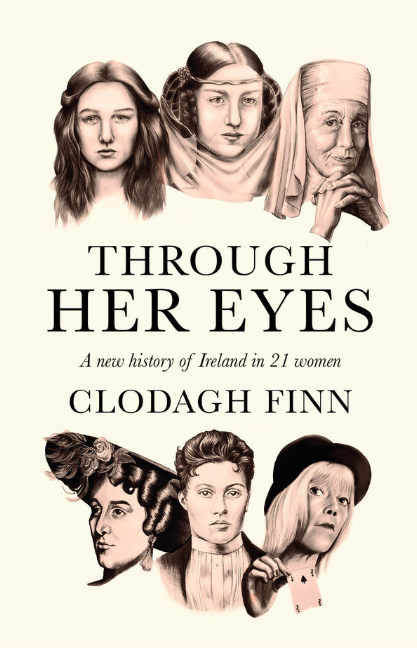 ---
2. New Genealogical Atlas of Ireland. 2nd ed, Brian Mitchell (2009)
Genealogical research in Ireland depends on a knowledge of geography, for all major Irish record sources are linked to at least one of the six administrative divisions mapped in this work: counties, baronies, civil parishes, dioceses, poor law unions, and probate districts.
The most important record source, the mid-19th century survey of Ireland known as Griffith's Valuation, is organized by poor law union, parish, barony, and county. But wills probated before 1858 are organized by diocese, and after 1858 by probate district; while parish registers, marriage license bonds, and census records all have an organization linked to one or another of these administrative divisions. To help in identifying the precise location of these divisions, and thus their jurisdiction, Mr. Mitchell has drawn at least three maps for every county. The first county map depicts the civil parishes; the second shows the baronies and dioceses of that county; the third illustrates the poor law unions and the parishes included in the probate districts serving that county. Three maps of Ireland are also included to show the area covered by each county, diocese, and probate district. In addition, the Introduction covers the link between the major administrative divisions and the major record sources of Ireland.
More information HERE
---
3. Irish Women in Religious Orders, 1530-1700, Suppression, Migration and Reintegration, Bronagh Ann McShane 
Short-listed for the Royal Historical Society 2023 Whitfield Book Prize and long-listed for the 2023 Reformation Research Consortium (REFORC) Book Award.
This book investigates the impact of the dissolution of the monasteries on women's religious and examines their survival in the following decades, showing how, despite the state's official proscription of vocation living, religious vocation options for women continued in less formal ways.
McShane explores the experiences of Irish women who travelled to the Continent in pursuit of formal religious vocational formation, covering both those accommodated in English and European continental convents' and those in the Irish convents established in Spanish Flanders and the Iberian Peninsula. Further, this book discusses the revival of religious establishments for women in Ireland from 1629 and outlines the links between these new convents and the Irish foundations abroad.
Overall, this study provides a rich picture of Irish women religious during a period of unprecedented change and upheaval.
More Information HERE
---
4. Christmas and the Irish: A Miscellany, Salvador Ryan, (2003)
This collection examines the celebration of Christmas among the Irish, from the seventh century to the present day.  In 75 articles, ranging from the serious to the light-hearted, writers from a range of academic disciplines and professions – Anthropology, Celtic Studies, Education, Folklore, Healthcare, History, Journalism, Literature, Media, and Broadcasting, Pastoral Ministry, Philosophy and Theology – reflect on what Christmas has meant to Irish people through the ages, whether living at home or abroad.   
More information HERE
---
5. History of Ireland in Maps, Pat Liddy (2023)
From early maps of the Emerald Isle to modern day, Ireland has evolved rapidly – along with the ways in which it has been mapped. Cartography has not only kept pace with these changes, but has often driven them. Explore Ireland's fascinating history with this stunning volume of over 100 maps.
More information HERE
---
6. Strokestown and The Great Irish Famine, Ciarán Reilly (2014)
'The most in-depth study of the effects of the Famine on a landed estate and its community … With the help of this book, we are brought deep inside the actuality of life during the Famine era. Some of our preconceived ideas of what actually transpired during that appalling era are challenged. Highlighted too is the important role played by the Irish National Famine Museum at Strokestown', from the foreword by Mary McAleese, former President of Ireland.
More information HERE
---
7. I'm sending a Shamrock to Remind you of Home, Thomas Callahan Jr
This book about Irish emigration to America demonstrates how the "big picture" of history can be viewed through the individual portraits of those who make it nd also addresses the difficult problems facing those who undertake such a project -- to rescue the history of average people from obscurity by using the scattered remnants of their past.
Tom Callahan recently retired after 46 years as a Professor of History at Rider University in New Jersey. Many of his students had Irish surnames, but very few knew anything about even their recent ancestors. Most had been average, working-class folks who left little behind them, save the memories, and when these faded, the ancestors "disappeared" from history. So he began to seek ways in which their history could be recovered, using his own Irish roots to reconstruct the turbulent period when millions of poor Irish emigrants left their families and all they had known to begin new lives in America. He continues today to demonstrate that knowing one's "roots" is important and that the "big picture" of history is composed of the individual portraits of those who made it.
More information HERE
---
8. Australians of the Great Irish Famine, Patrick Morrisey
This book of a Kilkenny clan's epic saga is defined by three overlapping phases – before, during and after An Gorta Mór - The Great Irish Famine. Famine became their catalyst to emigrate to the Great Southern Land. Intrinsically colonial Ireland begat colonial Australia (and Canada and the USA). Once there, they married into many other emigrant Irish families from right across the Holy Isle.
More information HERE
---
9. Ancestral voices in Irish Politics, Paul Bew (2023)
The story of Charles Stewart Parnell, one of the greatest Irish leaders of the nineteenth century and also one of the most renowned figures of the 1880s on the international stage, and John Dillon, the most celebrated of Parnell's lieutenants. As Paul Bew shows, the differences between the two men reflect both Ireland's past and its future. 
More information HERE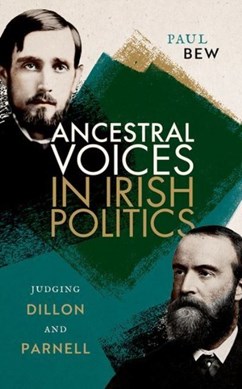 ---
10. The Family Tree Irish Genealogy Guide: How to Trace Your Ancestors in Ireland (2017)
This is the #1 bestselling Irish genealogy book on Amazon.com. Claire Santry is a respected journalist and writes the popular Irish Genealogy News blog. This book takes you through the resources available online for Irish research as well as giving you tips on finding records that can help you. There is also background on Irish history, geography and administrative divisions. It also includes case studies.
More information HERE
---
Read More