Did you know the relics of Saint Valentine, one of the world's most revered Saints, reside in the Whitefriar Street Church, a beautiful church located in the heart of Dublin City? People come from all over Ireland and the world to visit Saint Valentine and pray in the hope that he will grant them love and happiness.
Before we reveal our most unforgettable love stories, we'll look at how this relic came to be in Ireland and the story of the person who brought it. 
In 1836, Pope Gregory XVI (1831-1846) gave Dublin's Fr John Spratt a reliquary containing the remains of Saint Valentine, as a gift of esteem. John Spratt was best remembered as a beloved philanthropist, famous for his work among the poor and destitute in the Liberties of Dublin. He was one of the first to join Fr. Matthew's temperance movement in Ireland. Until his death, he worked tirelessly to the cause of total abstinence, on-call at any time to administer "the pledge". 
In addition to the building of Whitefriar St. Church in 1826, Spratt also founded
On November 10, 1837, Saint Valentine's reliquary arrived in Dublin (with a letter from Cardinal Odescalchi confirming its authenticity) and was brought in solemn procession to the Whitefriar Street Church where it was received by Archbishop Murray of Dublin.
You can read a full biography of Rev. John Spratt here
Image Above: Whitefriar Church 1837
The following letter to the Dublin Record (via the Sligo Journal, 8 Dec 1837) gives fascinating insights into both the Catholic and Protestant response at the time...
Sir —Some time since, my attention was directed to an account in your paper of a gift made by the present Pope, of the body or sacred relics of St. Valentinus to the Order of Carmelites in this city. Last week, a coarsely printed handbill was circulated about town, stating that the body had arrived, and was deposited in the Carmelite Chapel, in Whitefriarstreet—adding, also, that the Pope had attached plenary indulgence to the repetition of certain prayers in said chapel before the sacred relics.

Yesterday, I visited the chapel—and having passed through the crowd to the altar, to which I was led by one of the numerous attendants in the place, I saw grating fixed underneath the altar, and through this grating, what appeared to be coffin case covered with velvet, fringed with gold lace. There was a group of worshippers prostrate before the grating, whose actions surprised me not little. They continued to push their fingers through the grating, and to rub old gloves and fragments of linen cloth against the velvet covering of the coffin. Having inquired of the guide the meaning of this proceeding, informed me, with great animation, that the people were extracting holy virtues from the blessed saint's body, in order to cure, by those sanctified pieces of cloth, all manner of diseases!

Perfectly disgusted with the whole business, I left the chapel immediately and thought it right to give publicity thus to what I had witnessed. When such an imposition can be fearlessly practised on Roman Catholics of every rank by their Priests, I would ask what may they not be inclined to believe and do by the same masters? When such superstition openly prevails, are we not guilty, in the most awful degree, if we do not use every honest means in our power, by scriptural education and controversial preaching, to deliver our poor fellow-countrymen from such a system of iniquity?

I remain your obedient servant, C.M. Fleury, Dublin, November 1837
The Church of Our Lady of Mount Carmel aka Whitefriar Street Church (est. 1826) remains a special place of pilgrimage for people in love, especially on St. Valentine's Day.  On February 14th, hundreds of couples will pass through its doors to have their rings blessed by the patron saint of lovers who rests there in Dublin. The inner box of the shrine which contains 'the sacred body of Saint Valentinus the Martyr, together with a small vessel tinged with his blood has never been opened nor seals broken to disturb his final resting place. 
On St. Valentine's day, the Reliquary is removed from beneath the side altar and placed before the high altar for veneration. On this day, many couples about to be married attend mass for a special blessing of their wedding rings. Read more about the Church of our Lady of Mount Carmel here
Image Above: The Shrine of St. Valentine at Our Lady of Mount Carmel in Dublin, courtesy Arthur Carron
Over to You. Do you know the church your ancestors married in? Search in our Church database and leave a comment. 
---
Love Story #1 Charles Steward Parnell marries Katherine (Kitty) O'Shea in 1891
Known as the 'uncrowned King of Ireland', Parnell  (27 June 1846 - 6 October 1891) a nationalist hailed from Cork City was a celebrated hero in Irish politics during the 1800s. He served as an MP and also as the leader of the Home Rule League before going on to become the leader of the Irish Parliamentary Party from 1882-1891. This party held the majority in the House of Commons during the Home Rule debates of 1885-1886.
It was his love affair with married English women Katherine O'Shea, the wife of fellow MP Captain William O'Shea that would send his political career into freefall. The details of the love affair were laid bare over a two-day divorce trial between Katherine and William O'Shea. It was revealed that Parnell had been having an affair with Katherine for several years after meeting in the summer of 1800 and he had even fathered three of her children. Despite knowing about the affair for years, Captain William O'Shea is said to have done nothing as he was waiting on a large inheritance from Katherine's aunt, when it became clear the inheritance wouldn't materialize he initiated divorce proceedings.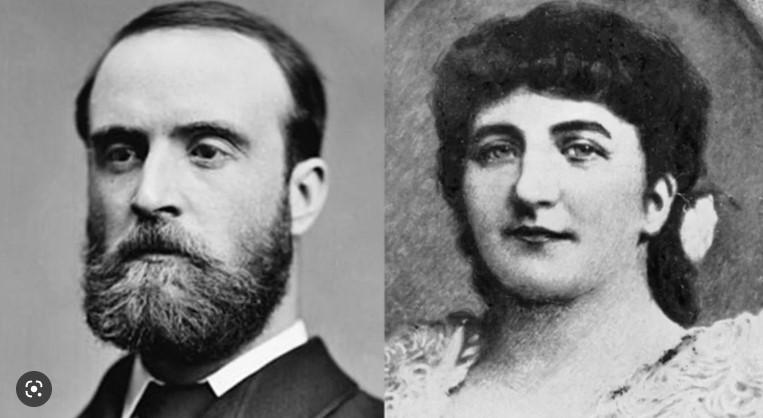 News of the long-standing adulty rocked the social and political scene in Ireland and the Catholic Hierarchy, shocked by his immortally feared his actions would destroy the cause of Home Rule. He eventually resigns following intense pressure from British Prime Minister William Gladstone. He lost many of his Irish supporters aswelll with Katherine receiving alot of the blame. It was around this time her name became 'Kitty' O'Shea, 'Kitty' being Victorian slang for prostitute. 
Despite this, he went on to marry Katherine in a registry office in Dublin on June 25t,h 1891. On the day Parnell said to Katherine
The storms and thundering will never hurt us now, Queenie, my wife, for there is nothing in the wide world that can be greater than our love
He died in her arms three months later on October 06 1891 of pneumonia. He was 45 years old. Although an Anglican, his funeral was held at the Irish National non-denominal Glasnevin Cemetery in Dublin and was attended by more than 200,000 people.  Katherine placed a red rose he had given her the day they met in the coffin with him, deciding not to attend the funeral herself. 
After his death, O'Shea wrote her reminiscence of when she first knew she loved Parnell. It was the autumn of the year 1880. They had met earlier that Summer 
On the platform for Eltham at Charing Cross (train station) stood Mr. Parnell. As our eyes met he turned and walked by my side. He did not speak. He helped me into the train and sat opposite me. I leant back and closed my eyes and could have slept but that the little flames deep down in Parnell's eyes kept flickering before mine though they were closed. He took off his coat and tucked it around me but I would not open my eye to look at him. He crossed over and leaning over me to fold the coat more closely around my knees he whispered, "I love you" and I slipped my hand into his and I knew I was not afraid.
Read More: Short Biography of Charles Stewart Parnell
---
Love Story #2 Michael Collins's  love letters to Kitty Kiernan 
This legendary pairing first met in 1918 when Collins, the independence-treaty negotiator, stayed at Kiernan's family's hotel, the Greville Arms in Granard, Co Longford.
Also staying was Harry Boland, who ended up on the anti-treaty side, but who also fancied his chances with Kitty. A love triangle was conducted via hundreds of letters, with the Collins winning the heart of Ms. Kiernan.
Of course the Civil War intervened and, while the pair got engaged in Greystones, in Co Wicklow, Collins was ambushed at Béal na mBláth, in Co Cork, and died before they could marry. Collins often credited Kitty with restoring his Catholic faith after becomming increasingly frustrated with the Catholic hierarchy in Ireland.
Boland had been killed two weeks previously. In the end Kitty married someone else entirely – Felix Cronin – and named one of their two sons Michael Collins Cronin.
According to the Glasnevin Trust, which maintains Glasnevin Cemetery, Kitty "requested that she be buried as close as possible to her great love, Michael Collins".s conducted via hundreds of letters from where Collins lies, and was joined there 16 years late by her husband Felix".
Read More: Short Biography of Michael Collins
---
Love Story #3 Patrick Kavanagh and his love for Dr .Hilda Moriarty
After meeting in 1944 when Hilda was just 22, Kavanagh was 20 years her senior. Often described as the Monaghan Poet, he left the family farm in County Monaghan with a dream of becoming one of Ireland's recognised writers. In the Autumn of 1944 living on Raglan Road in Dublin he spotted Hilda from County Kerry on her way to University City Dublin where she was studying medicine.  Kavanagh became besotted by her with just one glance! 
His love for Hilda inspired the poem Raglan Road, which was sung by Luke Kelly of the Dubliners and became one of the biggest Irish songs of all time published in the Irish Press in 1946 under the title, Dark Haired Miriam Ran Away. Kavanagh's poem was later set to the melody of an old Irish song called, Fainne Gael an Lae, which was loosely translated as The Dawning of the Day.
Though she regarded Kavanagh as a friend, her feelings were not romantic and in 1947 she married Donogh O'Malley who later became Minister for Education.
Read More: Short Biography of Patrick Kavanagh
Enjoy Luke Kellys' performance of the poem Raglan Road below.
---
Read More