Ireland XO brought three people together in the search for their Irish ancestors: Susan had responded to Anne's request for information published in the journal of the Genealogical Society of Victoria. Anne had been given Leo's name, but no means of contact, by the Historical Society at Learmonth, near Ballarat. A Google search led Anne to Leo at IrelandXO.com. Three Doolan families from Killinaboy, County Clare had been reunited.
Picture above: Leo, Anne, Susan and Susan's mother sharing their discoveries.
James Doolan, his wife Margaret Hayes and five of their children, left Plymouth on the London, arriving in Geelong on 2 July, 1852. They were accommodated in the Depot there for ten days, while they made plans for their future. To begin with, the two daughters went into service in Geelong, while the rest of the family travelled to the Ballarat goldfields. Susan and Leo are James's descendants.
Ann Doolan, with her husband George McCarthy and four of their children, set sail on the Merchantman 1854, to join Ann's brother James. Sadly, Ann died on the voyage. Details of the departure of young Nancy Ann Doolan, eldest child of another brother John, are unknown, but by 1857 she had joined her cousins. It seems she came alone to Victoria. Nancy Ann is Anne's forebear.
Luck at the goldfields meant that in 1855 James Doolan and George McCarthy's son Patrick were able to purchase newly-available, adjoining land at Burrumbeet, outside of Ballarat. James with 320 acres and Patrick with 160 acres, began successful farming ventures. The younger generation married, and, faced with many of the hardships of life in a new land, supported each other, contributing greatly to the development of a viable local community. Tragically, James's life was cut short when he was thrown from his cart, after his young horse bolted. Managing his land then passed to his sons and the family continued to prosper. Nancy Ann married and her Irish husband also bought adjacent land. But his farming foray failed. Photographs of the land at Burrumbeet contrast markedly with the land they left behind in County Clare.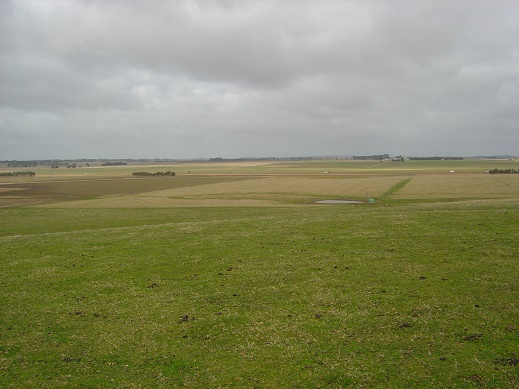 View across James Doolan's land at Burrumbeet photographed in 2014.
In 1875, the younger generation scattered. New opportunities had opened up in other parts of Victoria. James Doolan Junior moved to Kyabram, Patrick McCarthy and his brother John moved to Rochester, both places in Northern Victoria. Nancy Ann moved to the Melbourne manufacturing suburb of Collingwood. The three families now forged lives apart.
Susan, Leo and Anne have each travelled to County Clare in search of their forebears. In 2014, Leo visited Killinaboy and Jane O'Halloran Ryan of Ireland Reaching Out put him in contact with locals who guided him to family sites of interest.
Thank you Ireland Reaching Out. Information shared has greatly enriched our family stories.
by kind permission of Don and Anne Pitkethly