Andrea Lister's ancestors settled in Upper Canada in 1812, having emigrated from Loughrea in County Galway. When she returned this summer, to visit her place of origin in Ireland she was asked: "how long are you home for?" In our Connection Story she tells us about her experience reconnecting with Loughrea and her Irish ancestry.
Image above: Walking in the footsteps of the Usshers
Seeing the Land of the Usshers
By Andrea Lister
I was recently fortunate enough to travel to Ireland and see the land where on which my ancestors were born.
The first record of the Usshers in Ireland is in the 1400s with Arland Ussher during the reigns of Henry VI and Edward IV and the War of the Roses. Arland Ussher was a merchant, a Bailiff of Dublin in 1461, and the Mayor of Dublin in 1469.
The 6th great-grandson of Arland Ussher, Christopher Ussher, inherited land in the county of Galway. (Wright, 1889, pp. 173-4)
Image below: Andrea and the Ussher water pump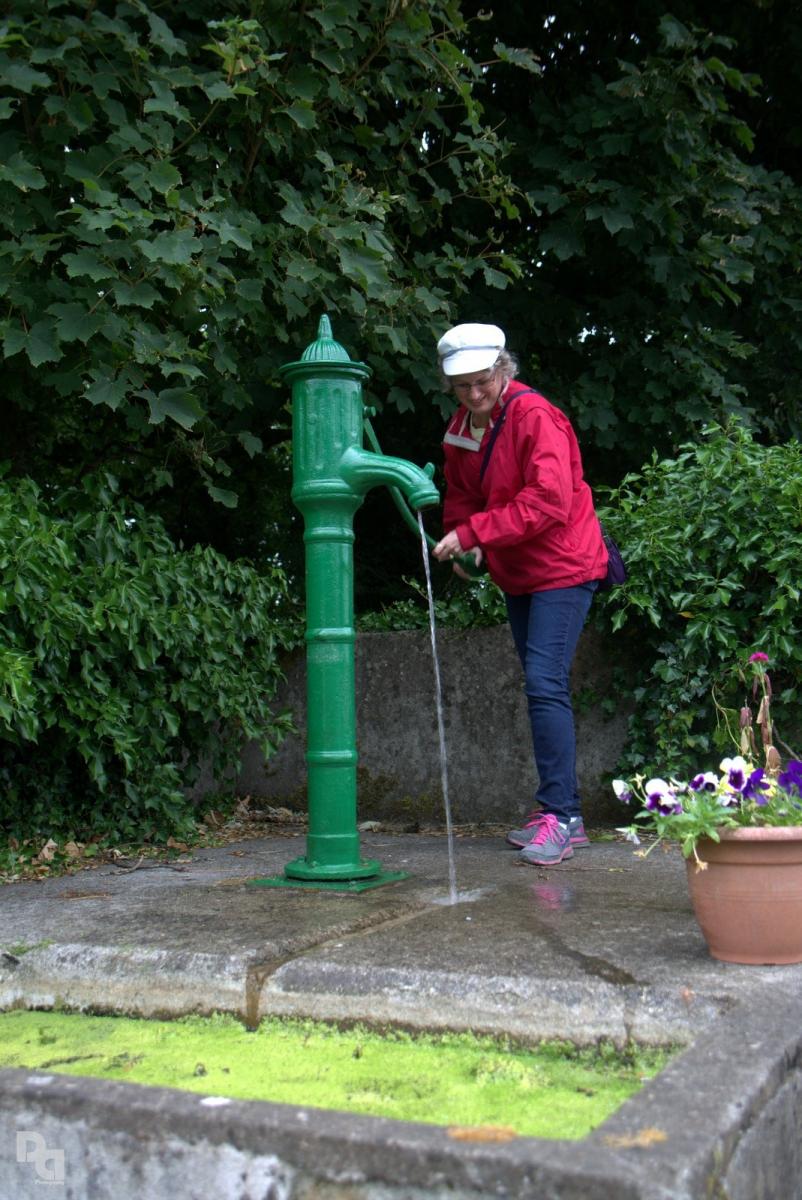 Christopher Ussher is my 5th time great-grandfather. His son, John Ussher, was born about 1771 on the land in Loughrea, County Galway. My 4th time great-grandfather, John Ussher, was the second son, and sixth child of Christopher Ussher and Margaret Baille, so not likely to inherit the estate. He joined His Majesty's 5th Regiment of Foot and was sent to Upper Canada. There, he met and married Mary Street. The regiment returned to England in 1797 and the 5th Regiment was dispatched to Europe where it fought under the Duke of Wellington.
John and Mary had six children, several of whom were born on the Ussher estate in Loughrea. In 1812, the 5th Regiment returned to Canada and served on the frontier during the War of 1812. This where my story ends in Ireland and remains in Canada.
However, being an avid family historian, I wanted to see the land where my ancestors were born.
Before we travelled to Ireland, I made contact with people at Ireland Reaching Out. I inquired about family records and received an immediate response from Roger McDonnell. I also asked if it was possible to see what remained of the family estate for the Ussher family in Killallaghtan, Galway. I received an immediate response in the affirmative and a contact name for when we arrived.
In July 2018, Liam Irwin met with us and spent hours showing us what remains of the estate. The Eastwell House no longer exists but there are some remains of the wine cellar. A sign remains that points to the crumbling stable and where the jockey hospital once stood. Liam checked with local families to make sure it was okay to wander through their property.
We went through a farm, past some cattle, and under some barbed wire to the private Ussher cemetery. The only headstone that remains is for Christopher Ussher, my 1st cousin, 4x removed. It is quite the impressive marker.
We also visited the land where the stable manager for Henry (Harry) Ingham Ussher once lived. The people there were lovely and asked "how long I was home for". I learned a lot about Harry.
Finally, we visited the Bohermore Cemetery in Galway where Harry Ussher was buried in 1957.
I have researched the Usshers for years but the visit to their land made the documents come to life. The biggest moment for me was to stand on what would have been their front lawn and get a sense of how big their estate had been. They could have seen all the way to Tipperary from their front lawn.
Thank you to Liam Irwin and Ireland Reaching Out.
Andrea created this short video of her visit to the land of the Usshers
---
British Columbia based author, speaker, editor, and book designer, Andrea Lister regularly writes articles on family history. She is the editor of British Columbia History, the British Columbia Historical Federation's flagship publication. www.absolutelyliterate.com
If you are planning a trip to Ireland and would like to connect with a local Ireland Reaching Out Volunteer, please visit our message board, where you can tell us where you are coming to, and how you are connected to that area. We will do our best to guide you to the resources that are available locally and where possible, to meet you and help you connect with the local community.